Summit's Self-regulating Heater Cable Construction and Technology
Summit's self-regulating heating cables are at the heart of the Radiant Edge Ice Melt System. They are comprised of two parallel nickel-coated bus wires in a cross-linked polymer core, a tinned copper braid and a polyolefin outer jacket. The remarkable technology of S1 and S2 heating cables enables them to automatically adjust their power output to compensate for temperature variations,  They eliminate any worry about overheating and can be overlapped.
The Summit S1 and S2 heating cables are a safe and efficient means to deliver heat to the Radiant Edge.  They effectively eliminate ice dams and icicle formations.  They can also be safely installed in gutters and downspouts made from standard materials. The S1 and S2 heating cables can also be cut-to-length during installation. This offers added flexibility to handle any unexpected changes at the jobsite.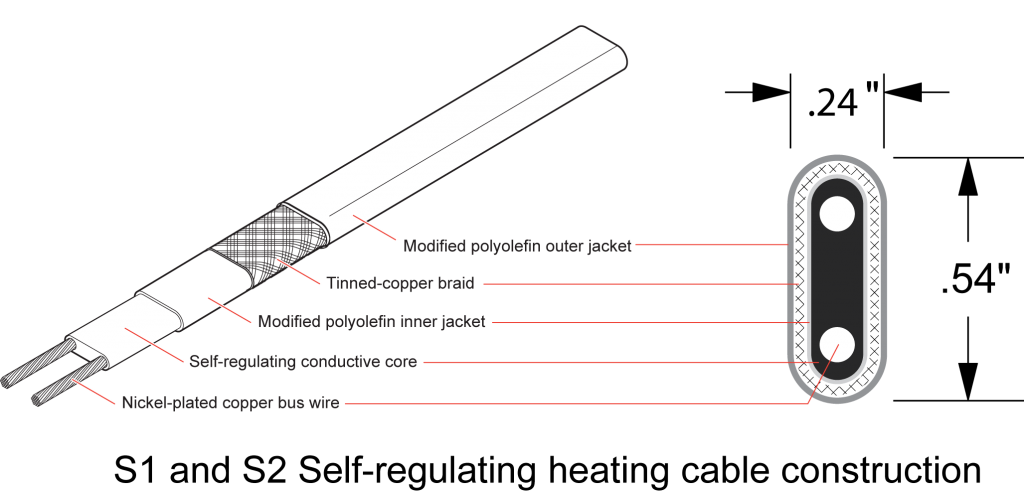 Download Printable S1 & S2 cable Technology Data Sheet
Click here for a printable PDF Data Sheet
Learn More about S1 & S2 Cable Specifications, Construction, and Approvals